Procurement
Solicitation Builder Makes RFP Collaboration Easy
One of the most challenging parts of putting together an RFP is getting stakeholders involved in the build process without creating chaos. If you've ever had different document versions from multiple editors get stored in different locations, or you've experienced painful approval processes that take place through endless email chains, you know how frustrating and time-consuming that chaos can be.
Eliminating that chaos reduces aggravation and waste, but also leads to happier stakeholders, more engaged vendors, and better solicitations that lead to better outcomes. With demands on public sector procurement teams increasing all the time, the need for effective RFP collaboration will continue to increase, too.
In this blog post, we'll take a look at why RFP collaborations tends to be so chaotic, and how Bonfire, a Euna Solutions brand, helps transform the chaos into productive teamwork.
The sources of RFP collaboration headaches
The process of creating and posting solicitations is intrinsically cooperative; requesters, procurement professionals, evaluators, and approvers each have their own concerns, tools, and processes. Shoving them all together creates challenges that you may be all-too-familiar with, including:
Tracking changes and comments: Keeping track of document edits becomes difficult when people prefer different editing tools and approaches.
Managing document approvals: Approvals become cumbersome and slow the procurement process down because approvers have other jobs; they become a procurement bottleneck.
Compliance and version control: Good change histories are hard to maintain, contributors are working on different versions of the same document, and viewing or rolling back to earlier versions is hard or impossible. This isn't just inconvenient; it's a serious compliance risk.
Time management: Inefficient communication and unnecessary extra cycles make it hard to scale procurement operations up to the increasing demands stakeholders make on procurement teams.
These are the collaboration headaches we hear about most often from the public sector organizations we talk to. As part of our commitment to make public procurement teams as effective as possible, we decided to develop a solution.
Solving RFP Collaboration
In looking for a solution, we quickly found our way to a list of capabilities we knew procurement professionals needed – capabilities that, together, would make RFP collaboration easy by helping procurement professionals to:
Maintain one source of the truth by keeping RFP documents in one place; no more fumbling through cloud and network drives.
See who changed what, and when, and keep an auditable record of edits.
Control access to documents from one place, granting viewing or editing privileges as needed.
Do more with templates, including better template searching and a way to cascade template changes down to individual documents.
Edit documents without leaving Bonfire.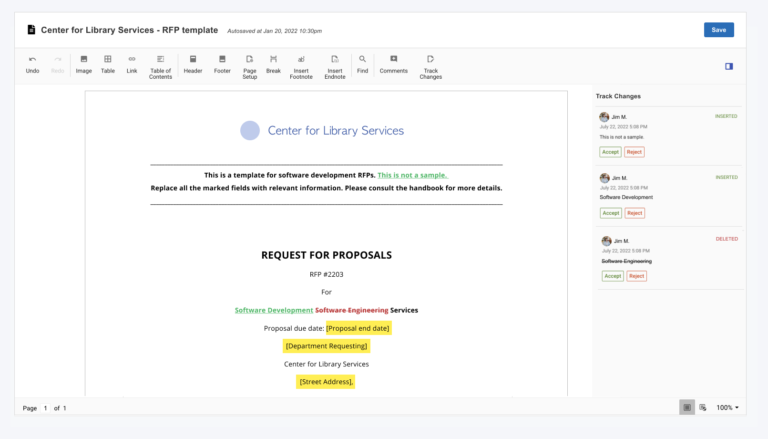 The future of RFP collaboration
The need for collaborative tools in procurement isn't going away, which is why we're not stopping at these capabilities. Streamlining collaboration is one of the biggest opportunities for improvement that exists in the solicitation building process, and Bonfire is committed to leading the way, so stay tuned as we continue to develop and announce new Bonfire Solicitation Builder features and other collaborative tools in the future.
Learn more about Bonfire Solicitation Builder
We couldn't be more excited about Bonfire Solicitation Builder, and we can't wait to hear what you think! Learn more by visiting the Bonfire Solicitation Builder web page or get in touch with us now to book a demo!